The global coronavirus pandemic could deny United's bitter rival Liverpool a first English Premier League title if the season cannot be played to its conclusion, despite holding a 25-point lead over nearest challengers Manchester City.On Monday, the UK government offered some clarity, by publishing a 50-page guidance document detailing how England hopes to ease lockdown measures.However, a number of leading players notably Sergio Aguero, as well as Danny Rose and Raheem Sterling have raised concerns about the Premier League's return. Before the season was interrupted, the Premier League had been due to conclude on May 17.When it comes to the resumption of professional sport, the UK government document confirmed that nothing can take place, even behind closed doors, in England until June 1 at the earliest. There are still 92 games left to play in the EPL.READ: 30 years of dreaming: Liverpool's agonizing wait for English football's biggest prize"In my view, with the type of football they played and the points they are ahead, it would be extremely harsh," Van der Sar tells CNN Sport. "The Premier League is a well-run league and of course there are big interests on the financial side, the commercial sides," he continues. "But I'm sure they will make a wise decision if they keep on playing or if the league stops, what the results will be depending for Champions League places, relegation or awarding a title to Liverpool."If the league doesn't resume, I presume everybody will be OK if Liverpool wins the title."It's a far cry from the opinion espoused by his former teammate Gary Neville who — with tongue in cheek — recently noted that while it would be "ridiculous" not to award Liverpool the title, "I'd have my little asterisk T-shirt printed … just for a bit of fun" if Jurgen Klopp's was essentially handed the league by default. Yet Neville's opinion is possibly one shared by many football fans, rather than Van der Sar's stance, which some might view as unlikely as looking out of the window and seeing cats chasing dogs down the street.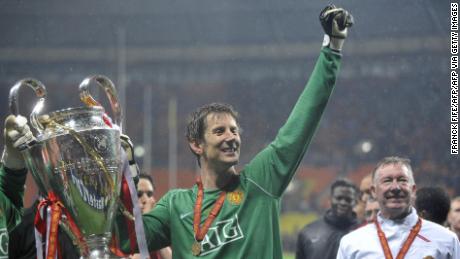 READ: Chaos beckons as European soccer season is devastated by pandemic
United in his belief
Van der Sar represented United with distinction from 2005 to 2011, winning four Premier League titles and the Champions League, and cannot help but observe the recent progress the Red Devils had been making under another former United star before football came to a sudden halt in March.Current United boss Ole Gunnar Solskjær made management look ridiculously easy when he succeeded Jose Mourinho in the Old Trafford dugout at the end of 2018. The Norwegian won 10 of his first 11 matches as caretaker manager and went on to win 14 out of 19 games — including a memorable Champions League victory against Paris Saint-Germain — before being appointed permanently in March 2019. For the remainder of the year, league victories were harder to come by but in 2020 there was an uptick in form, with United moving to fifth in the league thanks to four league wins in five matches which came as part of an 11-match unbeaten run. "The honeymoon period was great," Van der Sar recalls of Solskjær's time in charge. "Then they hit a rocky patch and I think the last seven, eight, nine weeks, they've been playing better football. The points were coming in. They had some good results against good teams also. "Of course, for them, I hope that the league is going to resume because they probably will need those Champions League places. I think the main thing for them is to focus on the next season and hopefully with two or three additions, they'll be competitive again to Liverpool and Manchester City."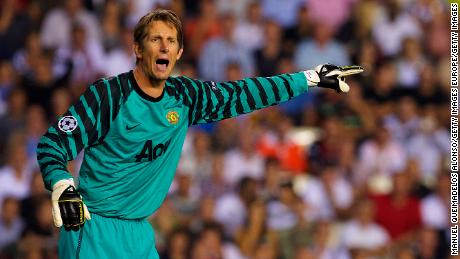 READ: Italian soccer league should 'finish properly,' says Alessandro Del PieroBut just what will it take for the club — which lifted 13 Premier League titles, before being starved of success following Sir Alex Ferguson's retirement in 2013 — to start wining again?"Consistency, a winning mentality," believes Van der Sar, who hopes that "maybe they can solve what's going to happen with Paul [Pogba], is he going to stay? "I'm sure that with De Gea, with Maguire, with Fernandes, with Rashford, with Martial, they have a good line, I think, in the middle. And besides that, they've also a lot of young players developing as always at United, so in that way I'm positive for next season for them."While that sounds more in keeping with the role required to run the Old Trafford club from the boardroom — a position the Dutch great has previously ruled himself out of — Van der Sar is more focused on his current day job at Ajax, the club he returned to as CEO in 2016.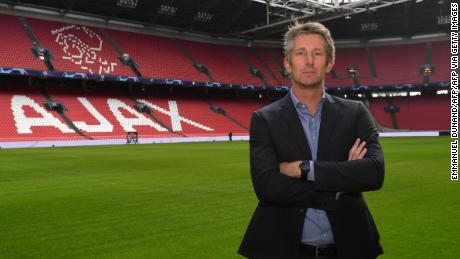 READ: Paris Saint-Germain named French Ligue 1 champion after season canceledThe Dutch Eredivisie recently decided to end the season without crowning a champion for the first time in the league's 64-year history. With nine matches left to play, Ajax was top of the table, albeit on goal difference from AZ Alkmaar, but would have been considered favorite to win a staggering 35th league title and sixth in the past 10 years. Van der Sar notes the players and supporters are "disappointed," but "we know health is important and there's no way to finish the league."Ever the realist, Van der Sar realizes that even with the Bundesliga in Germany returning on May 16 — a scenario the Premier League would reportedly like to replicate — it pales in significance compared to a country's priorities. "How do you test players if staff from hospitals or bus drivers or teachers are lackinRead More – Source