But on Sunday, the fans were chanting Tsitsipas' name as the Greek all-rounder became the youngest player since John McEnroe 41 years ago to win the ATP Finals on his tournament debut. Follow @cnnsport The 21-year-old rallied past Dominic Thiem, who was also well supported, 6-7 (6-8) 6-2 7-6 (7-4) in two-and-a-half hours in London to cap a remarkable breakthrough season."I remember watching this event on TV and thinking, 'Oh, these guys have done an insane year to be playing here,'" Tsitsipas told reporters. "And now I'm in the position to be champion, so it feels awesome."Tsitsipas had been a hitting partner for Austria's Thiem at the tournament three years ago and on Sunday he took advantage of a second-set lapse from his friend, and mostly held firm on serve. In the battle of the one-handed backhand artists, his 34 winners and 16 unforced errors were more solid than Thiem's 34 and 40. In the final two sets, Tsitsipas remarkably tallied 20 winners and four unforced. Both men flourished at the net on the fast indoor hard court. Tsitsipas began 2019 as a "Next Gen" prospect but ends it as a real grand slam threat next year. He has beaten the "Big Three" of Novak Djokovic, Rafael Nadal and — twice — Federer, including in Saturday's semifinals when almost all of the 18,000 inside the O2 Arena heavily backed the 38-year-old. Navigating through a two-week grand slam has been too much so far for the younger guard to overcome but unlike last year's 21-year-old winner in London, Alexander Zverev, Tsitsipas already has reached a grand slam semifinal, in Melbourne. And let's not forget 23-year-old Daniil Medvedev, the big-serving, counter-punching US Open finalist. Thiem and Zverev said this week they expected someone to break through next year.Tsitsipas certainly didn't discount himself. "I feel like my game is getting better over time, and I believe I'm really close on being crowned a grand slam champion," said Tsitsipas. "I know these are strong words that I say, but I do feel like I belong to be there."But later he acknowledged how difficult getting the better of the "Big Three" would be. "The thing that we have the Big Three dominating the grand slams the last couple of years makes it really difficult for us, because someone needs to get the job done in order to defeat them early rounds, because once they get deep in a tournament, they tend, as we saw over the years, to play, to get better and play better," he said. "So for me, that's a really difficult task to do for players, to be able to beat them in these grand slams, because it's the best-of-five format, and it just gives them more chances to stay in the match."For us, for the young guys, it's all about time. We will have to beat them or wait for them."Tsitsipas bookended 2019 with victories over Federer — the first coming at January's Australian Open when he urged fans to subscribe to his You Tube channel. They obliged, so his numbers indeed grew there. Now, however, Tsitsipas appears to have cooled on social media.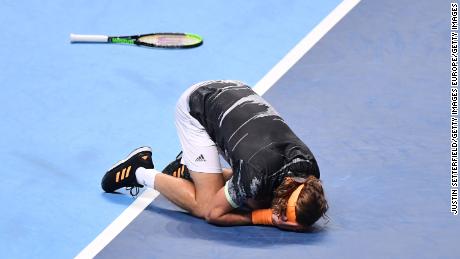 His game had no problem heating up in London, where he was watched by dad Apostolos — who saved him from drowning in 2015 — and another of his coaches, Patrick Mouratoglou. The latter is likely best known for also working with 23-time grand slam winner Serena Williams.
Break points saved
Tsitsipas rebounded from a nearly three-hour defeat to Nadal in his final group match Friday to upend Federer, saving 11 of 12 break points. And he didn't show any signs of weakening in the first set against Thiem, who had topped both Federer and Djokovic in group play. Tsitsipas saved a combined 18 of 21 break points against Federer and Nadal and fended off both in the first set in the seventh game. The odds were with Tsitsipas in the tiebreaks given his 33-12 record in breakers this year but he was never allowed to settle. Thiem never trailed and only once were they level, at 5-5. Tsitsipas saved a first set point at 5-6 thanks in part to a clutch volley but mis-hit a backhand at 6-6. Thiem ended the set by delivering a huge serve.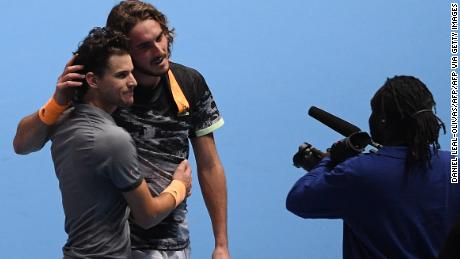 With the opener lasting more than an hour, it felt like a huge blow to Tsitsipas. But instead of capitalizing on that momentum, Thiem's errors allowed Tsitsipas to break to start the second set.
Major lapse
That minor hiccup turned into a major lapse for the 26-year-old Thiem, who soon trailed 4-0. Tsitsipas didn't relinquish the advantage, comfortably forcing a decider. Thiem bravely saved two break points to start the third courtesy of big forehands down both lines but cracked at 1-1 by sending a backhand into the net. Victory was in sight for Tsitsipas but he blinked at 3-2, Read More – Source