Robert Pires: Arsenal 'Invincibles' would beat Pep's Man City
Their points total at this stage of a season (49) is the highest in the history of the division.Follow @cnnsportBut, for all the plaudits, Pep Guardiola's men cannot yet be called Invincible. In the Premier League, that's an accolade that can only be applied to Arsene Wenger's unbeaten Arsenal team in the 2003/04 season.And Robert Pires, star of that Gunners vintage, is confident his side would get the better of Manchester City, were the two to meet. "I think my team had more quality," Pires tells CNN Sport, sitting alongside compatriot and fellow World Cup winner Marcel Desailly."Yeah, especially if you play at Highbury!" quips former Chelsea defender Desailly. "Small stadium and small pitch." Who would win a match between Arsenal's 'Invincibles' and Pep Guardiola's Man City?Have your say on CNN Sport's Facebook page
Bergkamp, Henry, Vieira, Pires
Wenger was bullish ahead of that historic season 14 years ago, saying before a ball had been kicked: "It wouldn't surprise me if we were to go unbeaten for the whole of the season."Guardiola, by contrast, was quick to dismiss the building hype ahead of City's clash with Arsenal in November, saying "Arsene's record belongs to him." "We are not going to break it," Guardiola insisted. "It was an exceptional team, something fantastic. We don't want to break this record, only to play well and beat them on Sunday." Even after a 3-1 City victory, midfielder Kevin De Bruyne expressed doubt the feat could be replicated in an age of financial primacy, telling Sky: "The power of the Premier League means every team has a lot of money and every team has a lot of quality players, so I think one day or another you will face a team who find a system to beat you, or they have a better day."But the Citizens have gone on winning, notably getting the better of their closest rivals Manchester United at Old Trafford in a 2-1 win on Sunday.Everton were the only team to take a point off City in domestic competition this season back in August, and even then defender Kyle Walker was sent off in the first half. Guardiola's men haven't so much as dropped a Premier League point this season with 11 men on the pitch.City's points total after just 15 games (46) would have been enough to guarantee eighth position in last season's Premier League.Their present goal difference (+41) is considerably higher than any other team's total of goals scored this campaign.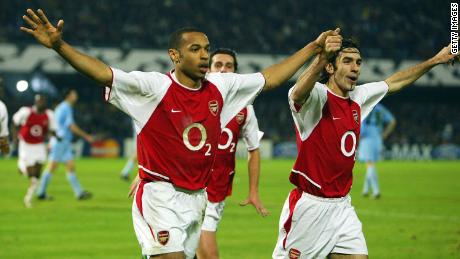 And yet Pires wouldn't trade his old teammates for the world. "Dennis Bergkamp and Thierry Henry had more quality than Sergio Aguero and Gabriel Jesus," smiles the Frenchman, who appeared in 40 of Arsenal's unbeaten 49 games, finding the back of the net 23 times."Patrick Vieira is better than Fernandinho. Pires is better than … De Bruyne!" the former winger adds jokingly, high-fiving Desailly. "And that's why Arsenal are better than Man City."READ: English FA probes Manchester Derby fracasREAD: Will Pep Guardiola's Manchester City become the new 'Invincibles'?
Bright future
Whether or not City go undefeated this season, the future looks bright at the Etihad. The longest winning streak in Spain's La Liga (16) was set in 2010/11 by Barcelona. In Germany's Bundesliga, Bayern Munich won 19 successive matches during the 2013/14 campaign. City could match that mark — the all-time record in Europe's top-five leagues — with four more victories.And all three teams were managed by the same man — Guardiola. Visit CNN.com/sport for more news and featuresWorryingly for City's rivals, both home and abroad, over 60% of their Premier Leagues goals and assists in 2017/18 have come from players under the age of 23.Don't bet against them being even better next season …
CNN's Zayn Nabbi contributed to this report
Original Article
The post Robert Pires: Arsenal 'Invincibles' would beat Pep's Man City appeared first on News Wire Now.