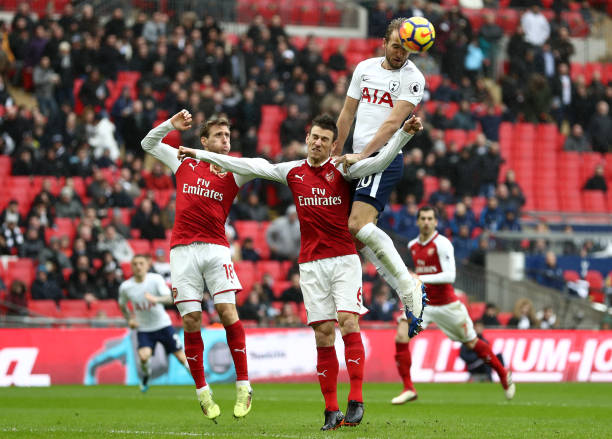 Harry Kane went one step closer to equaling Emmanuel Adebayor's north London derby goal-scoring record in Tottenham's 1-0 win over Arsenal on Saturday.
The striker scored his 23rd Premier League goal of the season and his brilliant 49th-minute header was enough to secure Spurs all three points.
Kane's superb effort was his seventh goal in the fixture, and he is now just one away from equaling Adebayor's record of eight.
Tottenham 2017/18 Fixtures
Juventus (A) – Tues Feb 13 (Champions League)
Crystal Palace (A) – Mon Feb 26
Huddersfield Town (H) – Sat March 3
Juventus (H) – Wed March 7 (Champions League)
Bournemouth (A) – Sun March 11
Newcastle United (H) – Fri March 16
However, Adebayor's tally was acheived having played for both clubs. He wore the Arsenal shirt 143 times between 2006-09 before later switching to Spurs, where he played 106 games between 2011-2015.
At 24 years old and plenty of years left before retirement, it's almost inevitable that Kane will equal the tally – and potentially even surpass it.
He will have to wait until next season at the earliest to secure the accomplishment with Arsenal and Spurs having played out all their fixtures against one another for the remainder of this campaign.
MORE: Salah aiming to beat Kane to the Golden Boot